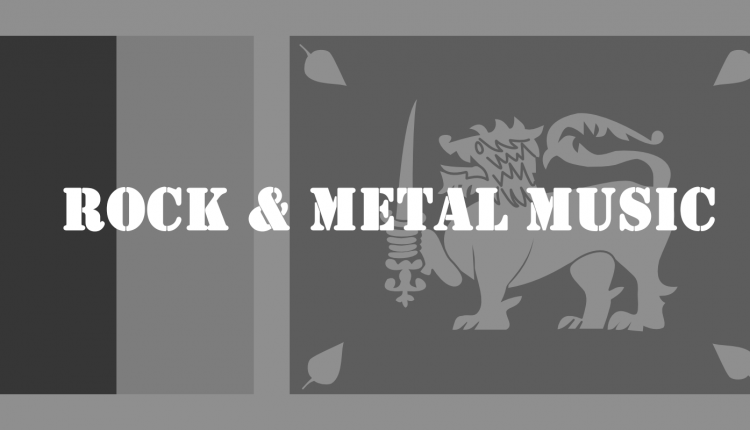 Live Rock & Metal Bands in Sri Lanka! You Should Have Been There!
We are Good in Rock & Metal Music. Just as Good as We are In Cricket. You Kinda, should be in the scene to get it.
Rock and Metal Music is often defined as a way of expressing deepest emotion through loud, symbolic, assertive style of music playing.
Growing up a metal head in Sri Lanka, you're tastes and influences are genetic to the bands everyone's heard of. The skill, talent and depth of musicality of local bands are not given the opportunity of having larger audience base due to the social and cultural functions of the inherent lifestyle of Sri Lanka. Hey let's face it! There is 21.8 million people in this country, how many of them do you think have heard Ghost of Perdition?
But hey, If you have seen the live performances of Sri Lankan Metal bands, it surely gives you the goosebumps and the sweet painful hangover of a violent mosh pit. Since my days of going to school hosted rock shows and sweet early 20s of underground metal gigs, I list down few of my most favourite acts/bands I've seen live.
Herb and The Remedy
This is a stoner metal band that is still in hiatus since I dunno, 2016?.
Imagine a band that plays slowed down Dimebag Darrel riffs but with a hint of Black Sabbath. The vocalist sounds like deeper Al Cisneros who is pissed off!
The band is 04 piece consisting of one vocalist, one guitarist, drummer and bassist. Personally the band is major influence to my own music creations due to their unique sound. The drummer and guitarist are brothers and the vocalist is almost as tall as me.
Lyrically, Musically, phenomenal.
Sakwala Chakraya
Sakwala is probably one of the most interesting and exciting musical experiences I've seen. My band shared the stage with them at the time and they are truly one of a kind. Their genre is called "Post Colonial Trance Punk". Every instrument in the band is magically complimenting or serenading a dark, twisted lyrical adventure. The band consist of probably one of the most talented drummers of the nation whilst accompanied by exceptional guitarists and bassist. The vocalist is truly an icon of his tone and presence on stage.
However, unfortunately, I did not see any performance of the band since the despondent demise of their band member, local Rock Legend Prasanna Abeysekera. Honestly, dude, one of the highlights of my metal band career was getting his approval for our music. And the crazy part is he is one of the founding fathers of the local metal scene. I will never meet a cooler gentleman of his age.
Tantrum
During my school days, these guys were one of my favourites. The frontman was from our school, played bass while singing. The lead guitarist is a software engineer who played a Musicman 7 string. The rhythm guitarist is an absolute beast. The drummer is probably one of the most underrated metal drummers.
Tantrum was one of the earliest bands that did YouTube content. When I was schooling it was the talk among the metalheads.
If you walk to any metalhead in our contemporary era: chances are you will find a tantrum "rebellion" poster. The band sound like Nevermore, but they did a fine job characterizing their personality through their music.
Happy Journey
This is an acoustic act. One of my most unforgettable musical experiences was listening to Happy Journey for the first time. Imagine offbeat guitar riffs, tantalising percussion mixed with melodic, depth full lyrics. And their performance is like riding a rollercoaster but your seat is made of invisible magic dust. My band at the time organized an acoustic gig series called Chillum Sessions.
We invited them to play, and I'll never forget how they robbed the show of what we were headlining. Their music goes beyond the rationale of greatness. Truly a marvel to witness.
LOCAL
This one band that played many gigs with us back in the day. I love everything about this band, and the critical SEO search result difficulty that arises with their name makes it much more epic when you meet people who have heard about them. The band's frontman is a very spiritual personality who sounds like a Sri Lankan Scott Weiland but with Jimmy Page guitar solos.
The bassist and drummer are simply phenomenal. What resonates most with this band for me is the lyrical dynamic. Their songs are in Sinhala, with lyrical annotations influencing complex social issues. This band kills it live. Very eager to see what they do in the future.
Sacrament
These guys were my peers in the metal scene. But they were a clear delegate in burning the house down in any gig I've been to. Their music is a complex blend of divine influences of bands like Lamb Of God (obvious bro), Gojira, early As I Lay Dying vibe. The funny part is the majority of the band members have foreign names. The band's talent is the culmination of their passion, skill and greatness.
I've been inside their studio while they practice and they are one of the humblest guys you'll meet. If you've been to the same school they went to; you probably already know about them.
MASS DAMNATION
Mass Damnation consists of 05 incredibly talented, dapper AF, handsome individuals. I've waited outside their studio space once and they were so welcoming to let me into their practice space. The drummer and bassist are super Saiyan on their instruments, and the two guitarists are articulate and fast. The vocalist skill is only seconded by his stage charisma. They brought international exposure to our country as well.
NEUROCRACY 
With a heavy heart, when I think of this band I remember Dr Gayan Danthanarayana. Neurocracy was one of the most notable live acts I've seen. And Dr Gayan is probably one of the greatest guitarists in our country. I'm not kidding. This bands music makes you feel you've won the war, their live performances make you feel like you're on the battlefield.
Abyss 
This band is brutal and violent as it gets. The whole concept of Hela Black Metal and technical death metal is an abhorrent jewel in their music. The vocalist can growl deeper than the irrigation of hell and he loves his pig squeals. The bassist has the same name as I, and I've jammed with him a few times. And one of the guitarists uses the same model of guitars as I. The drummer and guitars have a fury nothing like I've anything I've seen before. They once headlined in Kandy, probably their best performance I've seen.
Paranoid Earthling
I remember them from my childhood. They were one of the first few people to release a rock music video at the time. "69". Many years later I shared the stage with them. Paranoid is probably one of the oldest and underrated bands in the entire local scene. Dude, they kill every show they play. I've not seen an act like Earthling. I cannot form an opinion on their individual personalities because I'm simply overwhelmed by how much I would simp and fangirl them growing up.
Okay, I'm just going to stop here cuz I keep remembering band names and it's going to get absurd if I keep adding names like Wagon Park, stigmata, Whirlwind, 5 minutes apart, Funeral in heaven, Fallen Grace, Genocide Shrines, Destroy & Discard, Hollow… I don't know the list keeps on growing. You should have been there.